Address :3-2-14 Kameido, koto-ku, Tokyo Phone :03 3681 2784
URL:http://www.funabashiya.co.jp/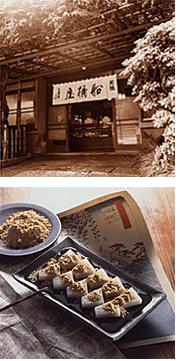 Kuzumochi is a semi-glutinous confectionery made from the starch of the Japanese kudzu plant (arrowroot) that is sweetened and sprinkled with soybean powder. First produced in an area just northwest of Tokyo, kuzumochi soon became a favorite throughout old Edo.
Funahashiya opened its doors for business near Kameido Tenjin in 1805 just as Edo (modern day Tokyo) was coming into its own culturally, and people of culture and high society would come to visit the various sites famous for wisteria, plum blossoms and peonies those very sites depicted by Hiroshige in his woodblock prints. Such people would stop to enjoy kuzumochi, and in time Funahashiya's reputation spread throughout Edo. That was over 200 years ago, and still today we continue to sell kuzumochi at the same location under the present, seventh-generation owner, Takashi Watanabe.
As a side note, the calligraphy on our store's sign was done by the famous novelist Eiji Yoshikawa.