Toto Norenkai is an association of shops and businesses that have been in operation in Tokyo (formerly Edo) for over 100 years. It was started in 1951, at a time when Japan was still suffering the after effects of World War II, by a group of shop owners who hoped to preserve the traditions of their individual enterprises, while at the same time inspiring and stimulating one another to develop operations that were more in tune with the times.
In Japanese the single word "Toto" captures the essence of both old Edo and modern-day Tokyo, and "noren" refers to the traditional curtain-like sign that is hung over the doorway to announce the name of the shop and that it is open for business, while "kai" means "club" or "association".
At present there are 53 members in Toto Norenkai, and each was selected because it has been engaged in the same operations for at least three generations and over 100 years, and because it continues to flourish today as a reliable business enterprise.
edo imageMember shops offer a wide range of merchandise including traditional crafts that reflect the beauty of Japan, everyday items essential to the Japanese household and confectionery to brighten the table and delight the palate, while member restaurants can add flare and style to everyday life. Shopping or dining at a Toto Norenkai member business is an excel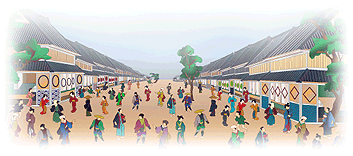 lent opportunity to learn about and enjoy Japan.
We hope you enjoy your stay in Tokyo, and we look forward to serving you soon.
This post is also available in: Japanese, Chinese (kan), Chinese (han), Korean