Address: 3-4 Kanda-surugadai, Chiyoda-ku, Tokyo
Phone: 03-3251-1135
URL:http://www.ryumeikan-honten.jp/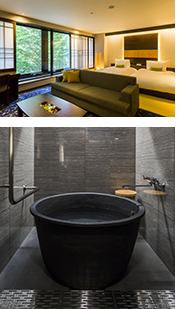 The Ryumeikan dates back to the end of the Edo period as an offshoot of a hotel in Nihonbashi called Naguraya Ryokan. It was the family tradition for the eldest daughter of the family and her husband to inherit the hotel, so the eldest son, Uhei Hamada, left in 1899 to start the Ryumeikan in Ochanomizu, followed by the Gofukubashi branch in Yaesu and the Sarugakucho branch (now known as Ryumeikan Building No.2) in 1909.
In pre-war times, the Ryumeikan was frequented by members of the House of Peers, land barons, writers and artists. Some of these artists paid for their rooms with works of art. The hotel also appears in Aya Koda's novel Flowing (Nagareru).
In 2009 the Gofukubashi branch was rebuilt as the Hotel Ryumeikan Tokyo, with 135 rooms, and in 2017 the main branch in Ochanomizu was remodeled as the Hotel Ryumeikan Ochanomizu Honten, with nine rooms, all suites. Both hotels have been included in the Michelin Guide since 2014. The company also operates the Japanese restaurant Konpeki no Umi in Roppongi, Minato Ward. We're looking forward to your visit some day.
This post is also available in: Japanese