Address :1-2-6 Nihonbashi , Chuo-ku, Tokyo Phone :03 3272 0948
URL:http://www.kuroeya.com/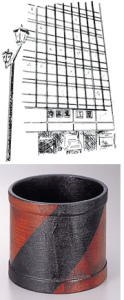 Kuroeya has been dealing in fine-quality lacquer ware since its founding in 1689. Lacquer ware is the generic term applied to utensils generally made of wood and coated with the sap of the Japanese lacquer tree. This representative traditional craft ware is widely used in everyday Japanese life, and when it was first introduced into Europe it became known simply as "japan", after the country of its origin.
We have on display in our somewhat limited space approximately 1500 richly lustrous items of the sort generally thought of as appropriate lacquer ware pieces, for the most part utensils for everyday use, including various kinds of bowls, chopsticks, light-weight trays and small serving tables, stacked boxes, coasters, plates, platters and utensils for the tea ceremony. More recently our wine coolers, walking sticks, handbags, as well as pierced earrings, chokers and other accessories have become increasingly popular.
Visit our premises and enjoy the feel of the quality craftsmanship we have endeavored to preserve since we first opened our doors for business.
This post is also available in: Japanese