Address :2-1-29 Komagata, Taito-ku, Tokyo Phone :03 3841 6314
URL:http://www1.odn.ne.jp/unagimaekawa/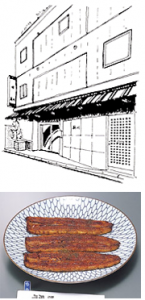 Maekawa was established in the early 1800s overlooking the Sumida River in Edo (modern day Tokyo). The name of our store is composed of two Chinese characters that mean "front"and "river", and refers to the fact that the river flows past the front of our shop.
The cultured eels we use are raised under conditions as near as possible to natural conditions. We also feature natural or wild eels in season, which lasts from May to November. The sauce we use for basting is not only our own secret recipe, but it is in fact the original sauce we started out with 200 years ago, which we continually add to as needed. Over the years many famous personages have enjoyed meals at Maekawa.
Visit our shop and try for yourself the exquisite flavor of deliciously prepared eel, while enjoying the view of beautiful Sumida River.
Partial menu
Unajyu (Roasted eel over steamed rice) 3,465 yen~
Full course meals 8,400 yen~
Unajyu lunch time special 2,310 yen~
This post is also available in: Japanese