Address:4-1-13 Nihonbashi-muromachi, Chuo-ku, Tokyo Phone: 03-3241-4038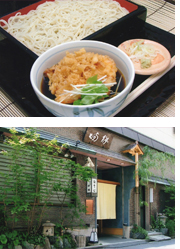 Originally opened at the end of the Edo Period in Gyoranzaka, Takanawa (now Minato Ward), the official establishment date is 1869 when the Nihonbashi shop was constructed.
As one of Tokyo's old soba restaurants, the fragrant soup made by adding richly flavored soy sauce to dashi broth is unique, and the shop offers two kinds of soba―flavorful mori and smooth zaru made with high-quality buckwheat flour.
Easy to eat even in the hot summers, we originated tenzaru and tenmori, made by serving tempura soba as dipping noodles. The tempura, fried with quality sesame oil, goes well with the broth.
Private rooms on the second floor are for parties, and they also accommodate group reservations.
Since soba can be enjoyed as a light meal as well as a main meal, the restaurant is open from lunchtime through dinner.
This post is also available in: Japanese