Address :2-5-11 Sotokanda, Chiyoda-ku, Tokyo Phone :03 3251 5031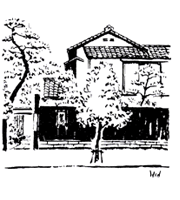 We began selling broiled eel in 1805. Eel has been part of the Japanese diet since the 7th century, but supposedly it wasn't until the latter part of the Edo Period that people began eating eel prepared in the modern way, that is to say, dipped in a sauce made of soy sauce and sweet cooking wine, and then broiled.
We are sure you will enjoy our broiled eel, for which we use only the finest, specially selected eels, our own special sauce—the original sauce that we have been adding to and using now for over 200 years—and our own unique cooking skills. From June through October in particular we receive shipments (not always regularly perhaps) of highly prized wild eels, and this is something you absolutely must try!
Prices:
Noon and evening meals
Kabayaki (broiled eel)
Unaju (broiled eels on rice)
5,000 yen~
3,675 yen
3,990 yen
3,360 yen
*An additional 15% service charge is required.