Address :2-2-1 Shintomi, Chuo-ku, Tokyo Phone :03 3551 0896
URL:http://www.oonoyasohonten.jp/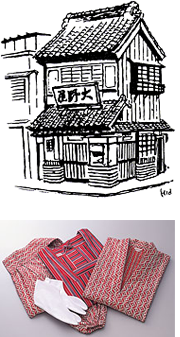 Ohnoya was established in the 1770s and moved to its present location in Shintomi-cho in 1849. For generation after generation we have made and sold "tabi"-the slipper-like socks for use with the kimono. The names "Ohnoya" and "Shintomi-style tabi" became widely known with the creation of the Shintomi-za and Kabuki-za theaters. Our tabi with their narrow soles and slightly upturned toes make the foot appear thinner and lovelier, and our custom-fitted, hand-sewn tabi are still a great favorite with top Kabuki actors, geisha and other stage performers. Besides our special order tabi, we also stock a large selection of tabi in all different sizes and widths so customers may be assured of finding a perfect fit. In addition to tabi we also make and sell undergarments for use with the kimono, nightgowns, pajamas, handkerchiefs, bathrobes and a wide range of other kimono accessories in our own original patterns and colors.
Prices:
White tabi (4 thickness kohaze)
Special order tabi (4 thickness kohaze)
per pair 3,150 yen*
per pair 3,885 yen*
(First orders must be 5 pairs or more. *Price includes sales tax)
This post is also available in: Japanese